Femco can speed up fluid drain time up to 8x.
Fluid drainage plays a crucial role in maintaining vehicles and machinery. However, the traditional process can be time-consuming and messy, leaving hands and workshop floors covered in dirty fluids. At Femco, we provide OEM spec oil drain valves that revolutionize the oil change process with increased speed and cleanliness. Our oil drain plug replaces the OEM plug and is available in over 600 sizes, with the ability to manufacture custom sizes in our own factory. Upgrade your fluid draining experience with Femco, where exceptional speed and efficiency are our priorities.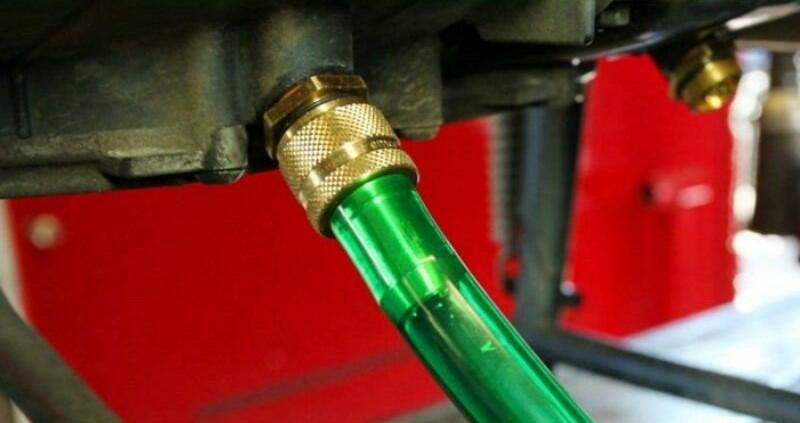 Femco's plugs provide several benefits when it comes to draining fluids:
Drain fluids hot. With our closed drain system, you can now drain fluids hot without risk of burns. Whether it's oil or other fluids, our system allows for the draining of hot fluids at engine temperature. This means that hot oil can flow out effortlessly, resulting in a smoother and more efficient draining process. By draining fluids hot, you'll experience less residue left behind, which is highly beneficial for the health and performance of your engine.
No more risk of burning hands. Our closed drain system is designed to ensure maximum safety. It operates in a fully enclosed manner, the valve is only open when a drainer is securely attached to the plug. The drainer acts as the key to open the valve of the drain plug, allowing for controlled and safe fluid drainage. With this innovative system, you can confidently perform fluid changes without worrying about the risk of burns.
Safer workplace. No more messy and slippery oil spills on the shop floor.
Easy to use. The thread sizes of our drain system are perfectly suited to fit oil pan, ensuring a smooth installation process. You'll find that attaching the drainer to the plug is a breeze, and it conveniently accommodates plugs of all sizes. Additionally, our system allows for effortless fluid disposal. By connecting a hose, you can easily guide the fluids to a designated disposal container.
Draining the motor oil is a simple yet vital maintenance task that should be performed at regular intervals. By removing old, contaminated oil and replacing it with fresh oil, you enhance engine performance, protect against wear and tear, improve heat dissipation, and extend the overall lifespan of your engine. Remember, regular oil draining is a small investment that yields significant long-term benefits for your vehicle. Femco drain plugs are perfect for improving this process, and thousands of hours of engine oil draining have already been saved by our plugs.
Regularly replacing hydraulic oil is a critical maintenance practice for machinery and equipment that rely on hydraulic systems. Femco's plugs can also be used for hydraulic systems. Ultimately, this maintenance task contributes to prolonging the life of machinery and equipment, enhancing operational efficiency, and reducing downtime in industrial applications.
Regularly changing transmission oil is a fundamental maintenance task for vehicles equipped with automatic or manual transmissions. By draining the old transmission oil and replacing it with fresh oil, this process helps ensure smooth gear shifting, prevent excessive wear, and maintain the overall health of the transmission. Femco's plugs are also used for draining transmission oil.
Femco oil drain valves can even be used to drain coolant. Regularly replacing coolant (or antifreeze) is a vital maintenance task for vehicles to ensure optimal engine cooling and prevent overheating. By draining the old coolant and replenishing it with fresh coolant, this process helps maintain proper temperature regulation, prevents corrosion, and extends the life of the cooling system.
Order drain plugs for fluid draining
You can easily choose the right plug size on our website. We offer a wide range of plug sizes for all types of vehicles and machines. Use our search engine to find the right plug size for your application and order it easily in our web shop. Should you require any assistance or have inquiries, don't hesitate to reach out to our knowledgeable experts. You can easily get in touch with us by filling out the contact form or sending an email to info@femco.com.
"Achieve optimal fluid drainage efficiency with Femco's cutting-edge technology."