Femco ® has over 40 years of specialist expertise in the development and manufacturing of the high-quality oil drain plug and oil drainage systems. Expertise which has made us worldwide market leaders in the field of oil drain systems. Femco® Draintechnology supplies oil drain plugs which make your routine maintenance easier. With the Femco® oil drain plug you can perform an oil change at your vehicles and machines, in an efficient, safe and sustainable way.
Femco® visits events and exhibitions all over the world to learn everything about the latest trends and developments in our industry. At these exhibitions, we meet up with our customers, potential customers and other interested people to discuss the possibilities of our oil …
In the early 1980s Poul van Santen was so frustrated with the poor quality of the traditional drain plug, he took it upon himself to re-design automotive oil drain plugs. Poul was a local car salesman from Rotterdam, the Netherlands with a passion for innovative engineering, in his …
On our news page, you can read all about the latest developments at Femco®. We will keep you informed about the introduction of new products, you can read all about the events and exhibitions. We will inform you about all the latest promotions. You can read about our case studies and projects.
Innovation at Femco ® Draintechnology
Most product development and innovation at Femco ® is the result of inquiries from our customers. We strive to develop an oil drain plug which makes an oil change as efficient, safe and environmentally friendly as possible in every situation. Hence we are always developing new drainage systems and looking for options to innovate our oil drain plug. We do this by monitoring developments in a range of markets, and by analysing the suggestions and requirements of our international clientele. Quality and reliability are the most important during our production process. All our oil drainage systems are thoroughly tested before they are released for production. As a result you can be sure that the Femco ® oil drain plugs are of the highest quality.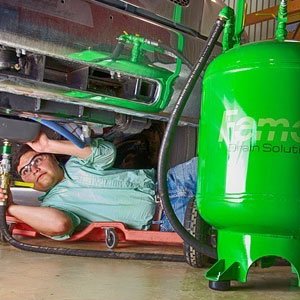 All Femco® oil drainage systems are developed and produced in our factory based in Mijdrecht (The Netherlands). Here we use advanced machinery which means we can quickly respond to your requirements. With our product range covering over 500 thread types and sizes we can supply an oil drain plug for every application. Whether it's a car, a motorcycle, a truck or even a boat, we have got the right oil drain plug. Please contact us if you have any questions or require further information.
Subscribe to our newsletter