The title of this blog post is a common question in all kinds of online forums where car enthusiasts and professionals working with all kinds of engines, come together. After all, it is a common occurrence: you want to change the oil of an engine and the oil drain plug is stuck. No movement at all. What are you supposed to do when your oil drain plug is stuck?
Take your toolbox out …
… because you've got quite a job waiting for you. A plug can get stuck when it got over torqued or when there's too much dirt between the threads. A plug that's over torqued can damage also the sump. To loosen the sump plug, there's often nothing else to do but to pick up a torque key and pull really hard. This way, you hope the oil drain plug will cooperate.
What are the consequences of a stuck oil drain plug?
It isn't without danger to apply brute force to a stuck plug; this can result in a stripped thread. And if you use the wrong size torque key, the oil drain plug will be damaged. If the plug still does not come loose, some people resort to hitting the crankcase with the torque key. Needless to say, this is not advisable, because you might smash the crankcase. A stuck sump plug may therefore only be problem one.
It can go a lot smoother
Femco believes that it can also be done differently. After all, you have better things to do than to apply brute force to a torque key for a long period of time. Moreover, a sump plug that does not get stuck can save you a lot of frustration. That is why the Femco® oil drain plugs have been developed. These plugs give you the opportunity to change oil quickly, safely and environmentally friendly. And did you know the Femco® oil drain plugs do not have to be unscrewed?
How does the Femco oil drain plug work?
If you decide to use the Femco® oil drain plugs, you only need tools once, when installing the oil drain plug. Once the plug has been installed, you don't need tools anymore to drain the oil. You just unscrew the dust cover from the oil drain plug and screw the drain piece with the hose onto the plug manually. Then the plug will drain into a container. Handy, right? And without having to use a torque key!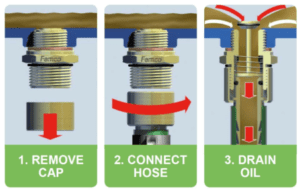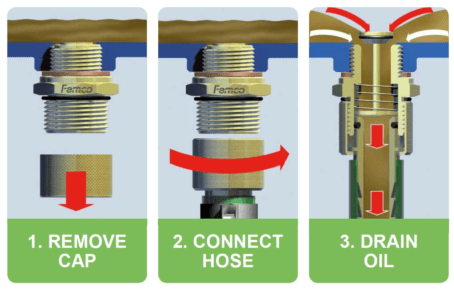 Choose convenience with Femco
And choose for an oil drain plug that you know will not cause you any problems. Once the plug is installed, you can drain your oil in just three steps. Faster and easier isn't possible! Big names such as Emirates, Hitachi and Cummins chose to work with Femco. So, what are you waiting for?
Compact Plug

Compact 90° Drain Set LB 7920178-1 M12x1.5-T10

COMPLETE SET – Consists of our brass drainer and brass plug, ensuring the best and long lasting durability.
ORIGINAL – Femco is the creator of the oil drain valve and is accredited with ISO certifications, ensuring the highest quality and warranty
NO TOOLS – One time install, no need to find a wrench that will fit! After the first install, Femco offers a lifetime warranty on all plugs
100% BRASS – Solid Brass ensures you can safely drain hot and cold fluids from your vehicle
CUSTOMER SERVICE – We are happy to answer any questions about our products or fitment

Includes:
– Femco compact oil drain plug
– Femco 90° drainer with 10" (25cm) hose