Does your company own one or more trucks?
Femco sets the industry standard for clean and cost effective oil changes. Want to get a Femco plug on your truck? You can easily find the right plug size on our website.

Common engines and trucks:
Some of the most common engines in the United States that Femco makes oil drain plugs for:
Cummins
Detroit Diesel
Caterpillar
Paccar
Volvo
Mack
Navistar
Ford
There are already over one hundred thousand trucks driving around the world with a Femco plug. 
Many companies have installed Femco plugs in these trucks:
Freightliner
Kenworth
Peterbilt
International
Volvo
Ford

Check our catalog for the correct plug sizes for the most common engines. If you have found the right plug size for your engine you can easily order the oil drain plug on our website.

How does the Femco oil drain plug work?
(Click Drain)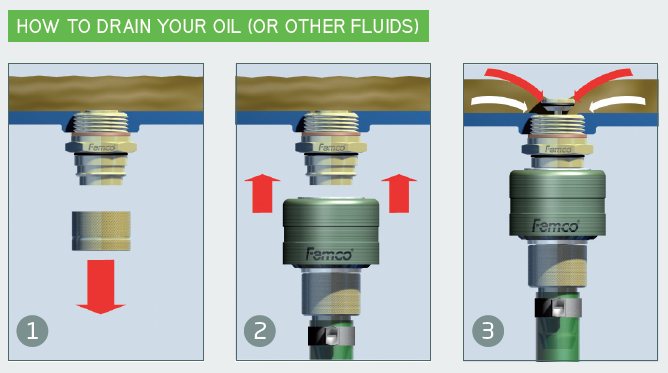 Femco's Click Drain system is perfect for performing fleet maintenance.
This is how it works:
1. Install the Femco oil drain plug and unscrew the cap.
2. Easily connect the Femco clicker coupling.
3. Draining the oil starts. By using an EVAC Unit, the oil will be completely drained within seconds.
Femco's click drain system was built from the ground up to save you time and money. It's quick connect drainer simply clicks onto the drain plug, opening the valve and allowing oil to flow out. Due to its brass construction, oil can be drained at engine temperature without risk of burns. This ensures any particulates or sludge left in the engine are flushed out with the more viscous hot oil. Draining oil hot results faster drain times, a cleaner oil change, and there's no need to wait for the motor to cool down before service. When coupled with an oil evacuation unit, the Femco system can fully drain a truck in just seconds.
The Femco® drainage systems are the result of over 30 years of experience in developing and manufacturing oil drain plugs. Our oil drain plugs enable technicians to change oil in an efficient, safe and more environmentally friendly way. 
Femco plugs are made of solid brass construction and have limited lifetime warranties.